---
Musings About MHR Canada: Excerpt #19
Written by Teddy on May 6, 2022
We are but mortals, but memories are important
Two years ago – wow time passes fast – John Gurr died.
That probably doesn't mean anything to most of you other than it may remind us all of our mortality. It does mean an awfully lot to his family of course! And it meant something to his friends, especially those of us at Mars Hill Radio Canada. You see, John was a board member of MHR Canada.
In keeping with the appreciation that we have of John Gurr, and for his years of service, an evergreen tree was planted at Meadowbrook Chapel in Kingston. This is at the local Christian assembly attended by the Gurr family. Beneath the tree a plaque reads: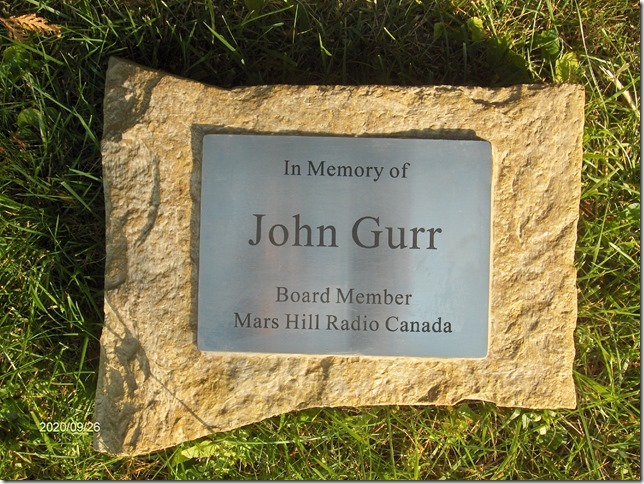 It was a marvelous day of planting and dedication. A number of his family attended the dedication in thankfulness to the Lord for a wonderful husband, father, grand-father and servant of the Lord.
What would the patriarch, Job, say about all of this? His statement might sound a bit callus but in reality, and as far as this world is concerned, it makes sense. Yes, Job said "The eye of him who sees me will see me no more! …. As the cloud disappears and vanishes away, so he who goes down to the grave does not come up. He shall never return to his house, nor shall his place know him anymore" (Job 7:8-10 NKJV).
To put this into perspective – in the long run and in most cases, we will be forgotten within one hundred years by people on earth. (But NOT by God!) for instance, I remember my parents who both died in the year 2000. There are a few memories of my grandparents. But nothing is remembered about my great grand-mother or father.
So, was it right for us to plant a tree in John Gurr's honour? Absolutely! It will help preserve his memory for those who knew and loved him. And that's who counts! What a wonderful opportunity we have in encouraging this by means of a living memorial. The fact that his name is associated with a service to the Lord through MHR Canada means a lot to me. It's in keeping with the lyrics of the song by Casting Crowns:
I don't want to leave a legacy
I don't care if they remember me
Only Jesus1
Submitted by Hank Blok
Secretary-treasurer, Mars Hill Radio Canada
1To listen to the whole song by Casting Crowns, in their video with the lyrics, watch the video below:
---
Reader's opinions
---