Musings About MHR Canada: Excerpt #3
Written by Teddy on January 15, 2021
Last month, you were informed of some great firsts, especially in Christian broadcasting. At that time, it was noted in this E-Newsletter, that the first Christian broadcast was beamed out of Pittsburgh PA. in 1920, but I could not find anything about when Christian broadcasting commenced in Canada.  It would appear that some religious programming started on the north side of the US boarder in the 1930's but no matter what date it was, faith-based stations were short lived.  Years ago, I learned something highly important from an anonymous source (like a good reporter, I will not reveal the informant's name since I really do not know where this information came from anymore).  It was suggested that during World War II, some religious Canadian broadcasters spoke against the war effort or reported confidential information, causing our regulators to withdraw the licenses of all religious stations.  Was it conservative evangelical preaching about "thou shalt not kill" that got us in trouble? Who knows anymore?
And so, while Christian broadcasting continued to expand in the USA and other parts of the world, the Canadian regulators arrested the possibility of having religious (mainly Christian) radio stations in Canada for almost fifty years.  To be continued…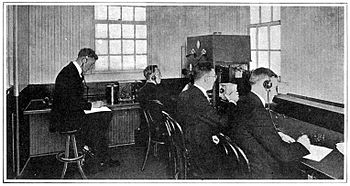 Picture of the first ever Christian radio broadcast in the U.S. at KDKA (AM) in Pittsburgh, Pennsylvania.
(photo courtesy: Wikipedia)
Submitted by Hank Blok, Secretary-treasurer, Mars Hill Radio Canada.
---
Reader's opinions
---