---
Musings About MHR Canada: Excerpt #17
Written by Teddy on March 4, 2022
Notes and Letters are appreciated
By God's appointment, I have been the voluntary treasurer of Mars Hill Radio Canada for a bunch of years. The word "voluntary" is used only as an indication that, like the Board of Directors in Syracuse, we do not take payment for services rendered to the ministry.  We have to be responsible and good in what we do but, in not getting paid, we have to be good for nothing.  That's alright though, as we recognize that "we are his workmanship, created in Christ Jesus unto good works, which God hath before ordained that we should walk in them (Ephesians 2:10).  What a privilege!
As the treasurer, it's a pleasure to read some of the notes and letters that come in the envelopes with the financial support for the radio ministry as they come to our mail folder within the halls of Bay Park Baptist Church. That's where the mail comes when addressed to 775 Progress Avenue in Kingston from where it is routinely picked up.  Some of the communications may be mundane but important.  These would include address changes and the pledge confirmations that indicate the station listened to and age of the listener.  Ladies, beware!  I now know approximately how old a bunch of you are – but ahh, I promise I won't tell anybody!  And there's the death notices when a relative or other executor informs me that a friend of the ministry has been promoted to Glory.  I don't like those.  Oh yes, it's nice to hear that another saint has gone to a better place and won't need the excellent ministry of the Mars Hill Radio Network anymore, as they are now with the Person that the on-going ministry down here, is about.  But these announcements tell me that we have lost another friend and supporter of the radio broadcasting, so I pray for the comforting of those left behind and also ask the Lord to provide a new friend to the network to replace the one gone home.
And then there are letters about the music on the station, about difficulties in getting the FM signal and lots and lots of notes that say that the writer really loves the station, the ministry, the music and the on-air staff.  While I attempt to answer the Canadian listener's concerns, some of them may be passed on to Wayne Taylor, station manager in Syracuse.  All the positive notes get forwarded to the secretarial staff at the station who collect them for monthly reports to the manager and Syracuse board.
Here are a few of my favorite notes received recently:
This one's nice, it reflects my feelings: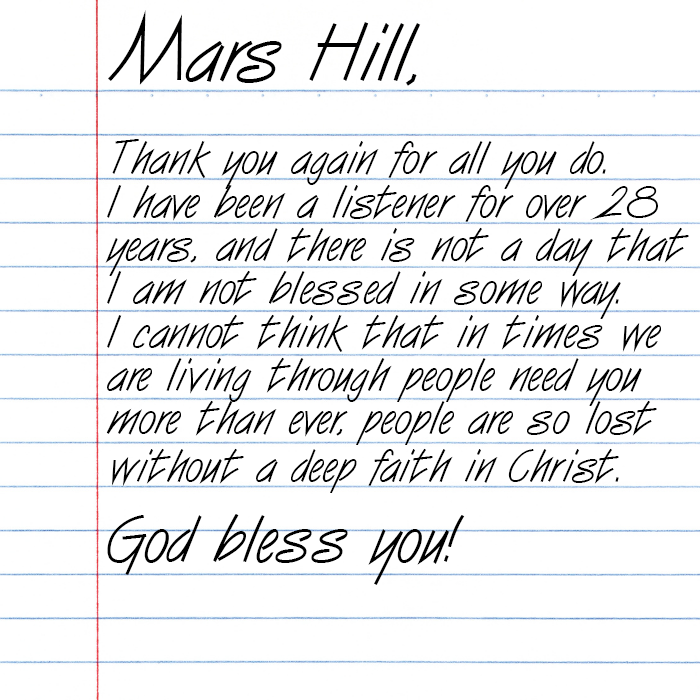 Here is one that is very special: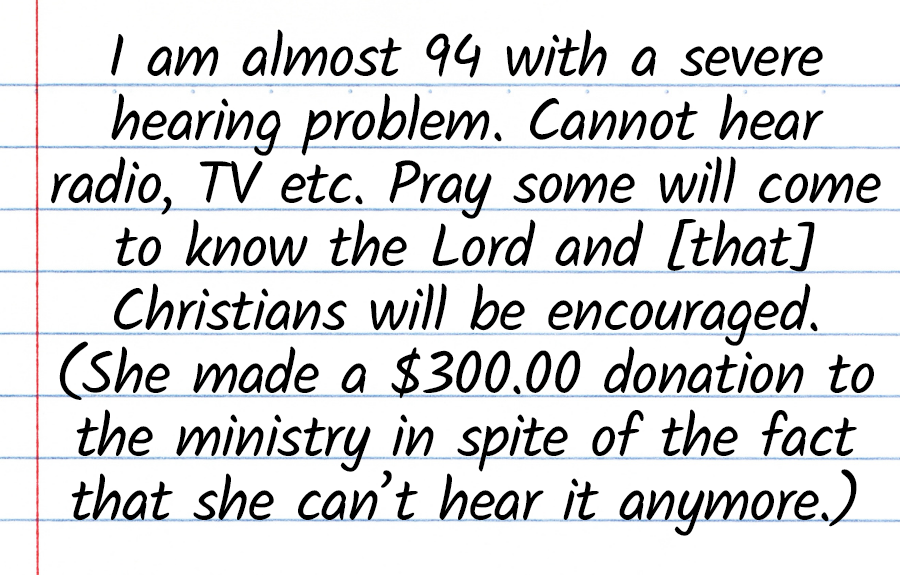 I blush at the end of this one but it is nice to be appreciated: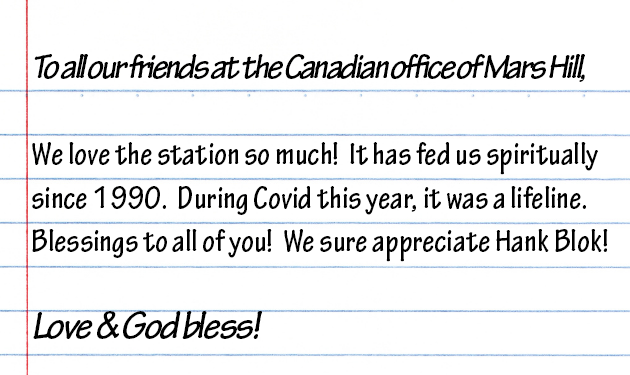 [Honestly now, they did write that, I didn't add it to look good.]
And this is one of my favourites!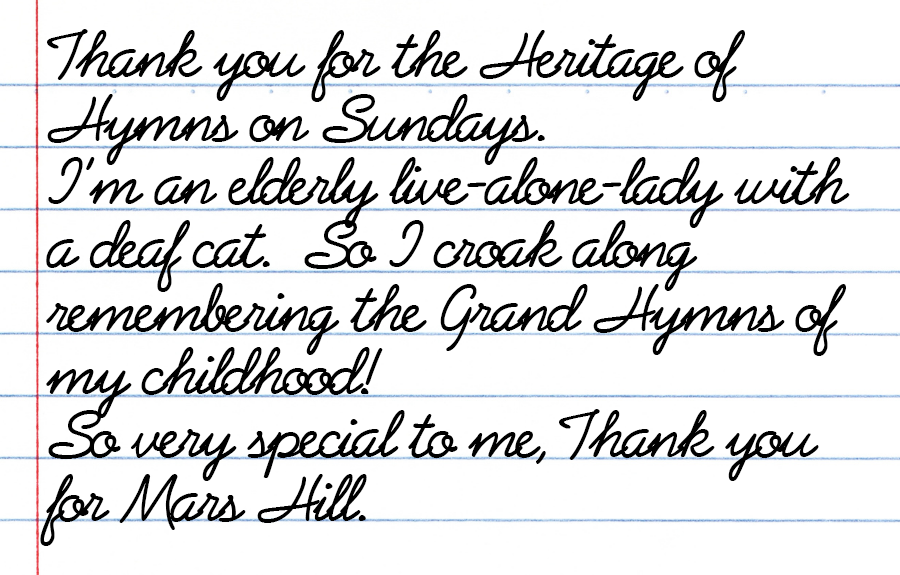 We appreciate your notes and letters, even your questions and complaints.  Please feel free to include them with your support or just write to our address at Mars Hill Radio Canada, 775 Progress Avenue, Kingston, Ontario, K7M 6R8.
Submitted by Hank Blok
Secretary-treasurer, Mars Hill Radio Canada
---
Reader's opinions
---