---
OUR FALL FUNDRAISER HAS BEGUN!
OUR FALL FUNDRAISER HAS BEGUN!
HARVEST2023 ON-AIR STARTS IN
HARVEST2023 ON-AIR STARTS IN
HARVEST2023 ON-AIR STARTS IN
WELCOME TO MARS HILL NETWORK!
TESTIMONIALS OUR LISTENERS HAVE GIVEN ABOUT THE MINISTRY
Excellent4.8★★★★★ review us on
John L. ★★★★★ It was something called "Night Sounds" with Bill Pierce....Is he still on the air?
Monica Alvarado L. ★★★★★ I love the programming they offer. I am privileged and blessed to hear station while at home.
Janet D. ★★★★★ Excellent programming, good content for kids, great music selection, especially during the Christmas season.
Robert Borsching I. ★★★★★ Great messages on varied subjects.
Alzada B. ★★★★★ Everything lots of time have trouble sleeping an have radio on 24-7 music soothes my mind an fall back to sleep. Messages an programs Marshill Familt
Melody F. ★★★★★ The music and teaching are fantastic! Check it out!
Chuck M. ★★★★★ I can only listen to Mars Hill on internet. there is no local station in Massachusetts. but there is no other Christian station that can come close to the quality and variety of Mars Hill.
John P. ★★★★★ fine Christian teaching and music
Andrea K. ★★★★★ I stumbled upon this station and am so grateful that I did.
Much of the programming leaves me with a renewed sense of hope and inspiration.
Karen N. ★★★★★ I'm grateful for the sing-along hymns and the fine mixture of contemporary and classic songs. Makes my morning commute a place of worship on-the-go! Blessings!
Linda G. ★★★★★ Wonderful music and programming
Jamie L. ★★★★★ The more I listen, the more I L😍VE the Christian Walk! My sincere Thank you, to everyone at the Mars Hill Network!
Rose F. ★★★★★ I live on Long Island. I am disabled I cannot get to church. All the programs I listen to help me grow in the Lord. I love all the music too. Thank you. I am Thankful for your program. Happy Thanksgiving to each on on this radio station.
Pete S. ★★★★★ Great station, with the true word of God
Jeff S. ★★★★★ One cannot go wrong by listening to MHN.
For me it's 102.9 daily.
Jenny Van R. ★★★★★ I am so thankful to come back to Mars Hill Network since we moved to Lyndhurst here in beautiful Eastern Ontario, for the past seven years. I remember getting the signal when my children were young, enjoying Kids programs and more (that would be late 80's). At that time I also was introduced to Twila Paris during a Care-a-thon and loved, loved loved her music .Such faith building programing for all ages and I still enjoy the Kids shows with Valerie Case. It's getting better all the time and I appreciate the sharing of scripture and nuggets of wisdom that different Programs present. May God bless you all and grow your faith as you trust in Him.
Josette Marie G. ★★★★★
Michael A. B. ★★★★★
Milli N. ★★★★★ My favorite station! Enjoy listening out here on the east end of Long Island!I now listen on my IPad... Love the teachings and Focus on The family! ... the music is soothing at night! Keep up the excellent work and Wayne, I send you hugs! <3! God bless my Mars Hill family! ;)
Sadrija Sam B. ★★★★★
Auriella B. ★☆☆☆☆ Be willing to post negative reviews
Paul H. ★☆☆☆☆ It's raining.
Had to turn Mars Hill off because it keeps dropping out. Driving me nuts.
Betsy Grace F. ★☆☆☆☆ God bless this station!
Excellent5.0★★★★★ review us on
Dorothy H. ★★★★★ Sound biblical teaching and preaching and music that glorifies God can be found at Mars Hill Network. Mars Hill helps you develop a Biblical world view drowning out the noise of the world!
Daniel C. ★★★★★ Praise God! Thank you Jesus! My king! Master Jesus!
Maryann M. ★★★★★ Thank you for putting on the Heaven Rules Women's Conference. I attended with 2 friends everything was wonderful! Food music and friends! GOD was present!!
Gretchen M. ★★★★★ Growing up in Fulton, NY, Mom always kept WMHR playing through our mornings and when I came home from school. My husband grew up an hour away in Little York, NY, where his parents always listened to WMHR as they fell asleep each night. This radio station is a part of such sweet memories from both of our homes. Fast forward 20-30-and now even 40(!) years-- often-- when I was missing my parents and those days of an era gone by, I would stream WMHR. It was a way to keep a piece of Central NY with me. This year, life has come full circle. While our younger children are getting ready for school most mornings, we listen to WMHR from 300 miles away in Ocean City, NJ. We still love it! The music, the teaching, the familiar voices, the memories it holds for us. Thank you, Mars Hill Network, for your faithful ministry through the years!
Nancy S. ★★★★★ Love love this radio station. It's on almost 24/7 in our house! Each program has something special to offer or teach and I've LOVED the kids program through all my young years! Amazing music and people! Always keeps me company ♥️
Ed H. ★★★★★
Maribeth C. ★★★★★ The Music selection at Mars Hill is stellar! Cream of every genre over the years. Teaching, too. Always worshipful and praiseworthy. (No time wasted jabbering) Thank you for lifting up Christ. And bringing His peace daily to me and so many.
Wendy I. ★★★★★
Jeanette D. ★★★★★
David Earsley (Syracuse L. ★★★★★
Rhonda B. ★★★★★ A very good Christian radio station! Bible based teaching and Christ centered music.
felix L. ★★★★★
Marilyn B. ★★★★★ WMHR has blessed me in so many ways. I love listening to the teachings of RC Sproul, Chuck Swindoll, David Jeremiah, Dr. Dobson and so many others.This is truly a Christian radio station that adheres to sound biblical teaching.
Dave & Linda C. ★★★★★
Cyndi A ★★★★★ When you find yourself in a dark place - just turn to the Mars Hill Network and it turns the light of Christ back on in your life. Found here is love, truth and friendship. Thank you
---
---
Upcoming Programs
---
YOUR RADIO HOSTS THROUGHOUT THE WEEKDAY: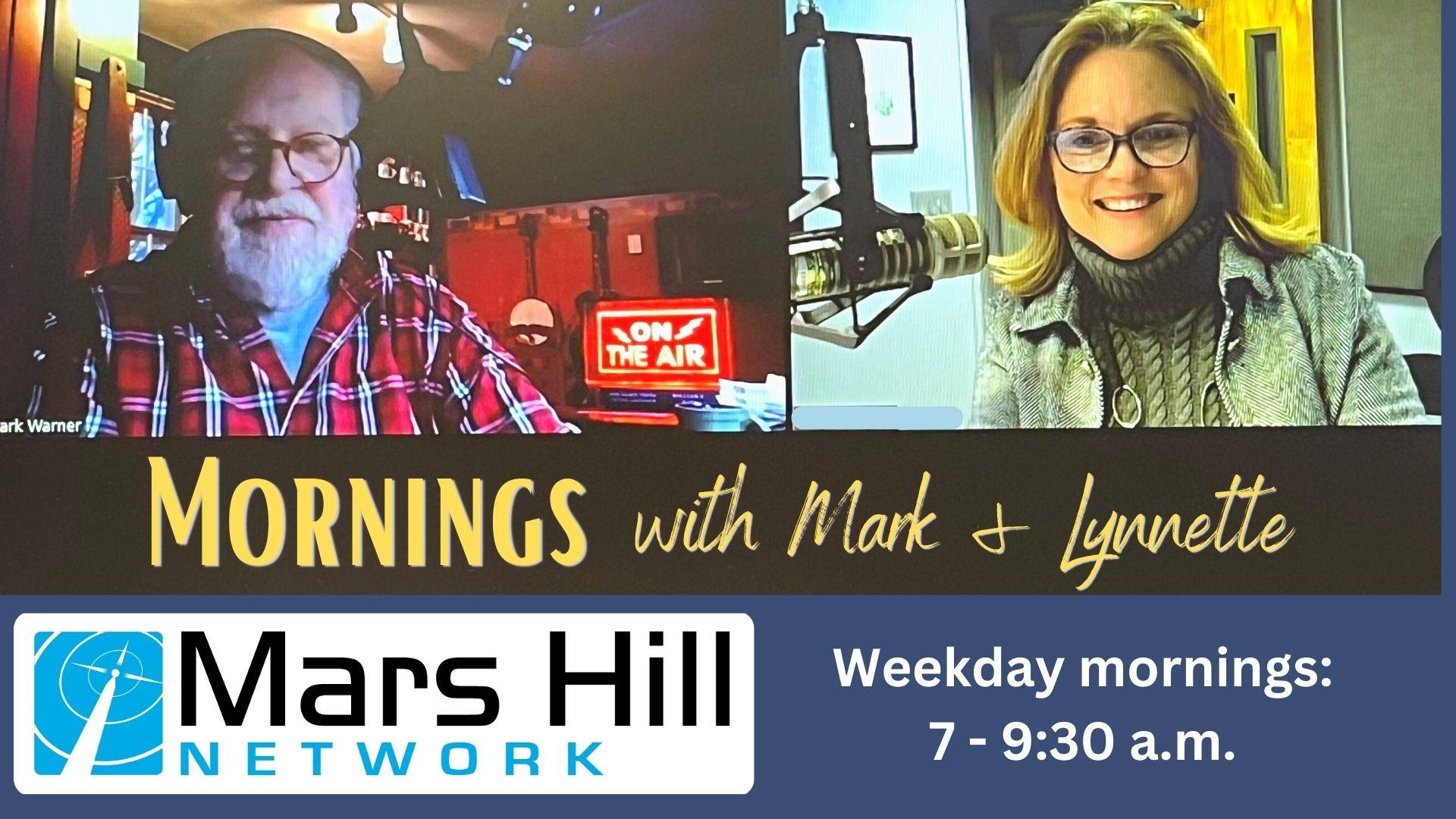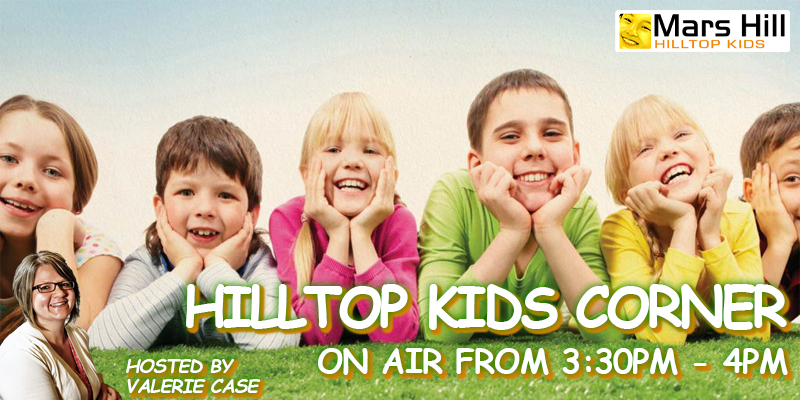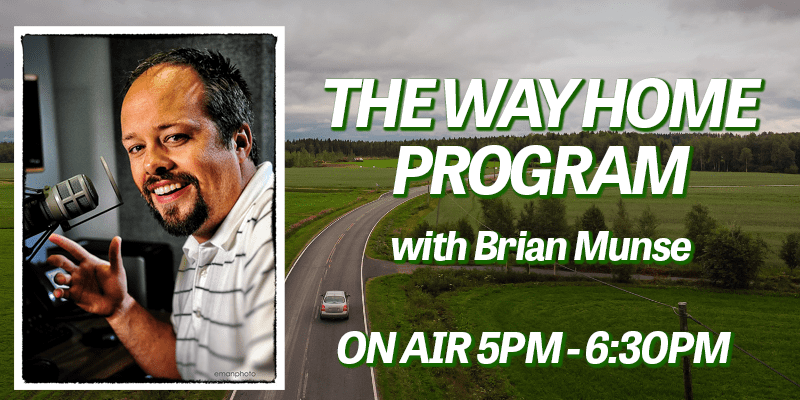 TODAY'S PASTOR FOR THE DAY:
TO LEARN MORE ABOUT TODAY'S PASTOR, CLICK ON THEIR IMAGE ABOVE.
OUR FM BROADCAST SIGNAL REACHES ACROSS THE NORTHERN BORDER THANKS TO OUR CANADIAN COUNTERPART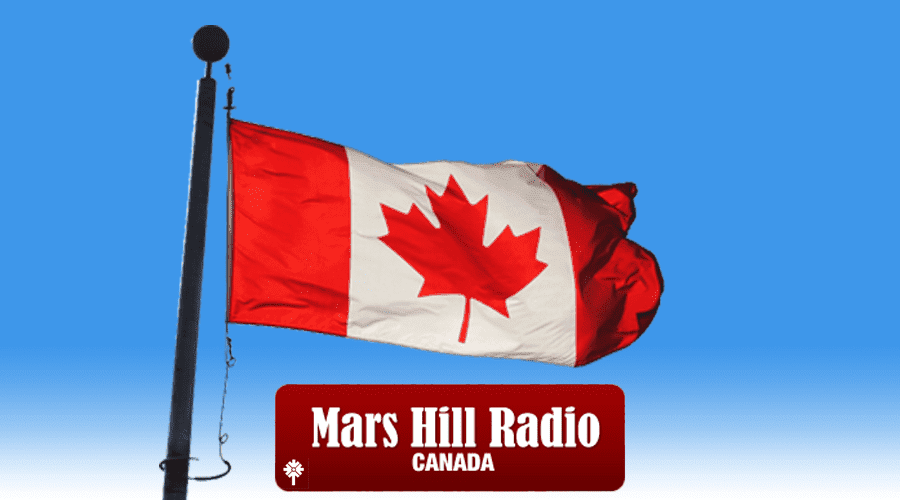 COVERING MOST OF NEW YORK STATE & CERTAIN AREAS IN CANADA, OUR SIGNAL REACHES MILLIONS OF POTENTIAL LISTENERS EVERYDAY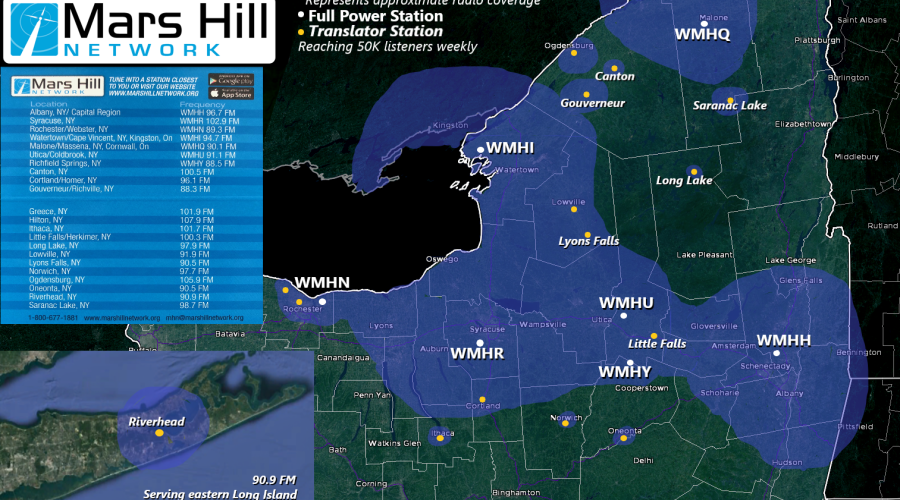 OUR DIGITAL MEDIA MINISTRY
LOOKING TO THE ONE UP NORTH → THE LORD JESUS CHRIST 
"Out of the North comes golden splendor; God is clothed with awesome majesty." – Job 37:22
"I have raised up One from the North, and He shall come: from the rising of the sun shall He call upon my name: and He shall come upon princes as upon morter, and as the potter treadeth clay." – Isaiah 41:25
*SNAPSHOTS FROM OUR ONE NORTH VIDEO PRODUCTIONS*
OUR LATEST ONE NORTH VIDEO SPECIAL:
NATIONAL DAY OF PRAYER 2023
ONONDAGA COUNTY COURTHOUSE STEPS – COLUMBUS CIRCLE, DOWNTOWN SYRACUSE, NY
OTHER INSIGHTFUL VIDEOS ABOUT THE MINISTRY:
DO YOU NEED HOPE?




A SHORT VIDEO FROM ONE NORTH ON THE "HOPE" BOOKLET
HOW CHRISTIAN BROADCASTING
MAKES AN IMPACT
HIGHLIGHTS FROM OUR HARVEST2022 ON-AIR EVENT
WHILE YOU'RE HERE, CHECK OUT OUR VARIETY OF FAITH TOOLS, RESOURCES & OTHER CONTENT BELOW 
STAY INFORMED ON CULTURAL ISSUES IMPACTING CHRISTIANS TODAY
UPCOMING EVENTS TAKING PLACE IN/NEAR OUR LISTENING AREAS
<!=========Events Static list Template 2.3.1=========>
OUR OTHER EXTENDED MINISTRIES AT THE NETWORK
MHN FAITH TOOLS & RESOURCES
FAMILY & CHILDREN'S PROGRAMS