---
STAY INFORMED ON WHAT'S GOING ON IN UKRAINE
As the ongoing conflict continues in Ukraine, we want to make updates available from numerous ministries & organizations that are working in the Ukrainian region, or have contacts working in those regions so you can stay informed on how the church is helping those in need during this time, but also how you can help support the relief effort in Ukraine.  If you'd like to help support ministries taking part in the relief efforts in Ukraine, click on one of the images below. 
To see some updates & other resources about the work going on with Christian ministries helping the people in Ukraine, check them out below:
DID YOU HEAR OUR SPOTLIGHTS W/PASTOR MICKHAIL?


Recently, Sonya interviewed Pastor Mickhail from The Full Slavic Gospel Church in Syracuse, NY about his recent trip to the Ukraine & his experiences helping those in need all while bringing them the hope that comes from Jesus Christ. Pictured above are him & his daughter Anita, who is also his translator, sitting in the Mars Hill studios with Sonya as they are about to begin the interview.
If you didn't catch them on air, you can listen to these Spotlight interviews below:
OUR HEARTS UNITE WITH THE UKRAINIAN PEOPLE
Jason McGuire, president of New Yorker's Family Research Foundation, interviews a Ukranian missionary about the conflict. Jason is the host of Albany Update, a 4-5 minute radio program that airs every morning on the Mars Hill Network Monday-Friday @ 6:04 am & 9:08 am.
THERE IS ONLY ONE REASON | PSALM 91
Anatoly Lykholai, a pastor of a church in Cherkasy, Ukraine, and his daughter, Kate Lykholai, composed this song based on Psalm 91 and Nikita Shuliahin created this video as a visual representation to the song as the conflict continues.
HOW SHOULD WE PRAY FOR RUSSIA'S INVASION OF UKRAINE?
This video from Core Christianity talks about how we should pray for the Ukraine situation.  Adriel Sanchez, pastor of North Park Presbyterian Church in San Diego, California, talks about this topic as he reads & reflects on Psalm 46 during Core Christianity's daily live talk show radio program.
In this video, FEBC's morning show host, Inna Tsaruk, who is an evangelist & prayer warrior, leads a prayer for peace in Ukraine and for the protection of the millions affected by this war as the siege on major cities in Ukraine continues.
SERGEY – DESTROYED MALL (FEBC) MAR 22, 2022 
Pastor Sergey surveys damage to a shopping mall in Kyiv, and answers a question that has been on the minds of so many people in Ukraine: "What happens if I die?" Hear how Sergey answers this personally, and the advice he is giving others in Ukraine.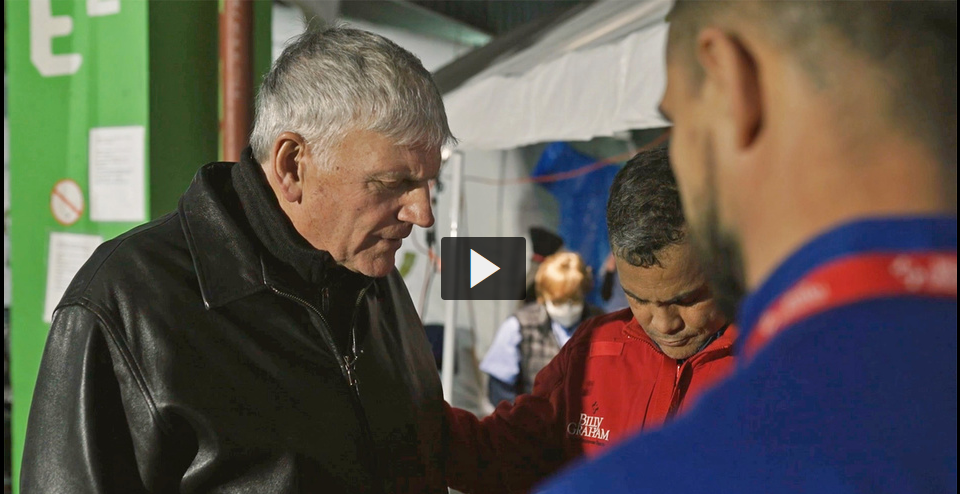 FRANKLIN GRAHAM VISITS UKRAINE, PRAYS OVER CHAPLAINS
From an emergency field hospital in Lviv, Franklin Graham urged prayers for those serving this battered nation.  Pictured here is Graham praying over the chaplains as they minister in the name of the Lord Jesus Christ.  To watch the video, click on the picture above.
STAY TUNED FOR MORE UPDATES ON UKRAINE COMING TO THIS PAGE