Prayers by Pete: We Will Overcome
Written by admin on July 29, 2019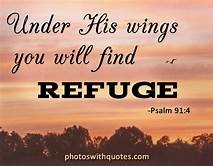 ---
There is no sickness under His wings.
1 Peter 2:24 He Himself bore our sins in His body on the cross, that we might die to sin and live to righteousness, for by His wounds we have been healed.
Malachi 4:2 But for you who fear My name, the sun of righteousness will rise with healing in its wings and you will go forth and skip about like calves from the stall.
Jeremiah 17:14 Heal me, O Lord, and I will be healed; save me and I will be saved, for Thou art my praise.
Psalm 103:2 Bless the Lord, O my soul, and forget none of His benefits.
Psalm 103:3 Who pardons all your iniquities, who heals all your diseases.
Jeremiah 33:6 Behold, I will bring to it health and healing, and I will heal them; I will reveal to them an abundance of peace and truth.
Philippians 4:19 And my God shall supply all your needs according to His riches in glory in Christ Jesus.

Our refuge is under His wings.

Ruth 2:12 May the Lord reward your work and your wages be full from the Lord, the God of Israel, under whose wings you have come to seek refuge.
John 14:6 Jesus said to them, "I am the way, and the truth, and the life; no one comes yo the Father, but through me."
Psalm 91: He who dwells in the shelter of the Most High, will abide in the shadow of the Almighty.
2 Corinthians 12:9 And He said to them, "My grace is sufficient for you, for my power is perfected in weakness." Most gladly, therefore, I will rather boast about my weakness, that the power of Christ may dwell in me.
Psalm 91:2 I will say to the Lord, "My refuge and my fortress, my God, whom I trust."
Isaiah 40:31 Yet those who wait for the Lord, will gain new strength; they will mount up with wings like eagles, they will run and not get tired, they will walk and not become weary.
Psalm 91:4 He will cover you with His pinions, and under His wings you may seek refuge; His faithfulness is a shield and a bulwark.

There is peace under His wings.

Philippians 4:6 Be anxious for nothing, but in everything by prayer and supplication, with thanksgiving, let your requests be made known to God.
Philippians 4:7 And the peace of God, which surpasses all comprehension, shall guard your hearts and your minds in Christ Jesus.
James 1:2 Consider it all joy, my brethren, when you encounter various trials.
James 1:3 Knowing that the testing of your faith produces endurance.
James 1:4 And let the endurance have its perfect result, that you may be perfect and complete, lacking in nothing.
John 14:27 Peace I leave with you; My peace I give to you, not as the world gives to you. Let not your heart be troubled, nor let it be afraid.
John 16:33 These things I have spoken to you, that in Me you may have peace. In the world you have tribulation, but take courage, I have overcome the world.
Heavenly Father, "We Will Overcome" when we stay under His wings.
Humbly I pray this in the name of Jesus. Amen.
Please forward this so others may be blessed.
Pete Sagen
prayersbypete1@outlook.com
To God be the Glory
---