Prayers by Pete: Trust and Serve
Written by admin on February 6, 2017
---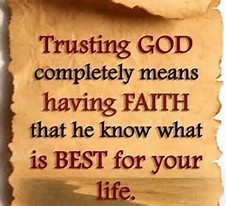 We love the Lord.

1 John 4:8 The one who does not love does not know God, for God is love.
Matthew 22:37 And He said to them, "You shall love the Lord you God with all your heart, and with all your soul, and with all your mind.
Matthew 22:38 "This is the great and foremost commandment.
Matthew 22:39 "The second is like it, "You shall love your neighbor as yourself."
1 John 4:18 There is no fear in love, but perfect love casts out fear, because fear involves punishment and the one who fears is not perfected in love.

More love He bestows.

John 3:16 For God so loved the world, that He gave His only begotten Son, that whoever believes in Him should not perish, but have eternal life.
1 John 4:16 And we have come to know and have believed the love which Christ has for us. God is love, and the one who abides in love abides in God, and God abides in them.
1 John 3:1 See how great a love the Father has bestowed upon us, that we should be called children of God, and such we are.  For this reason the world does not know us, because it did not know Him.
I will serve the Lord.

Matthew 6:33 But seek first His kingdom and His righteousness, and all these things shall be added to you.
1 Samuel 12:24 Only fear the Lord and serve Him in truth with all your heart, for consider what a great thing He has done for us all.
John 12:26 If anyone serves Me, let them follow Me; where I am, there shall My servant also be.  If anyone serves Me, the Father will honor them.
We say the longer we serve the Lord Jesus, the sweeter He grows.  The more we love Him, the more love He bestows on us.

Colossians 3:16 Let the words of Christ richly dwell within us, with all wisdom teaching and admonishing one another with psalms and hymns and spiritual songs, singing with thankfulness in our hearts to our Lord, Jesus Christ.
Hebrews 13:15 Through Him then, let us continually offer up sacrifices of praise o God, that is the fruit of our lips giving thanks to His Holy name.
Psalm 106:1 Praise the Lord, oh give thanks to the Lord, for He is good; for His lovingkindness is everlasting.
Trusting our Lord in love.
Psalm 9:10 And those who know Thy name will put their trust in Thee.
Psalm 37:5 Commit your ways to the Lord, trust also in Him, and he will do it.
Isaiah 12:2 Behold, God is my salvation, I will trust and not be afraid; for the Lord God is our strength and our song, and He has become our salvation.
Heavenly Father we honor you and worship you.  We will "Trust and Serve" our Lord.
Humbly I pray this in the name of Jesus. Amen.
Please forward this so others may be blessed.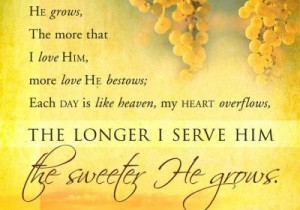 Pete Sagen
prayersbypete@aol.com
To God be the Glory
---