Prayers by Pete: The Father's Love
Written by admin on July 3, 2017
---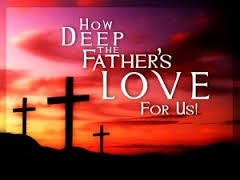 Without faith, how may we please our Father?

Hebrews 11:6 And without faith it is impossible to please Christ, for those who come to Christ must believe that He exists and is a rewarder of those who seek Him.
Psalm 147:11 The Lord favors those who fear Him, those who wait for His lovingkindness.
Proverbs 16:7 When a person's ways are pleasing to the Lord, He makes even their enemies to be at peace with them.
Acts 2:38 And Peter said to them, "Repent and let each of you be baptized in the name of Jesus Christ for the forgiveness of your sins, and you shall receive the gift of the Holy Spirit."

Our hope is in the Lord.

Psalm 39:7 And now, Lord, for what do I wait? My hope is in Thee.
Psalm 33:20 Our soul waits for the Lord; He is our help and our shield.
Psalm 33:21 For our hearts rejoice in Him, because we trust in His holy name.
Psalm 33:22 Let Thy lovingkindness, O Lord, be upon us accordingly as we have hoped in Thee.
Psalm 62:5 Christ only is my rock and my salvation, my stronghold, I shall not be shaken.
Father, show us how to love.

1 Corinthians 13:4 Love is patient, love is kind, and is not jealous, love does not brag and is not arrogant.
1 Corinthians 13:5 Love does not act unbecomingly; it does not seek its own, is not provoked, does not take into account a wrong suffered.
1 Corinthians 13:6 Love does not rejoice in unrighteousness, but rejoices with the truth.
1 Corinthians 13:7 Love bears all things, believes all rings, hope all things, endures all things.
Without love, we have nothing.

1 Corinthians 13:1 If we speak with the tongues of men and of angels, but do not  have love, we have become noisy gongs or clanging cymbals.
1 Corinthians 13:2 And if we have the gift of prophecy, and know all mysteries and all knowledge,
and if we have all faith, so as to remove mountains, but do not have love, we have nothing.
How deep is the Father's love?

1 John 3:1 See how great a love the Father has bestowed upon us, that we should be called Children of God, and such we are. For this reason the world does not know us, because it did not know Him.
Heavenly Father, each day you guide us and protect us with "The Father's Love".
Humbly I pray this in the name of Jesus. Amen.
Please forward this so others may be blessed.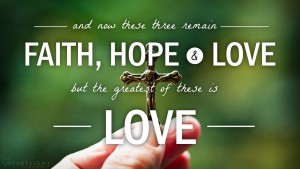 Pete Sagen
prayersbypete@aol.com
To God be the Glory
---