Prayers by Pete: Great is our Lord
Written by admin on July 10, 2017
---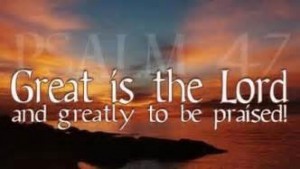 Great is our Lord.

Psalm 147:5 Great is our Lord and abundant in strength; His understanding is infinite.
Psalm 95:3 For the Lord is a great God, and a great King above all gods.
Psalm 117:1 Praise the Lord all nations, extol Him all people!
Psalm 117:2 For His lovingkindness is great toward us, and the truth of the Lord is everlasting. Praise the Lord.

We have a great, big God.

Jeremiah 23:23 "Am I God who is near", declares the Lord, "and not a God far away?"
Jeremiah 23:24 "Can anyone hide themselves in a hiding place so I do not see them?", declares the Lord.
John 4:24 God is spirit, and those who worship Him must worship Him in spirit and truth.
John 14:6 Jesus said to them, "I am the way, and the truth, and the life; no one comes to the Father but through Me".
The Lord's love is like a cloak over us.

Psalm 104:2 Covering Thyself with light as with a cloak, stretching out heaven like a tent curtain.
Zephaniah 3:17 The Lord your God is in your midst, a victorious warrior, He will exult over you with joy, He will be quiet in His love, He will rejoice over you with shouts of joy.
1 Peter 4:8 Above all, keep fervent in your love for one another, because love covers a multitude of sins.
1 John 4:18 There is no fear in love, but perfect love casts out fear, because fear involves punishment
and the one who fears is not perfect in love.
1 John 4:19 We love because He first loved us.
Our Lord knows all our desires.

Matthew 6:8 Therefore do not be like them, for your Father knows what you need before you ask Him.
Psalm 19:14 Let the words of my mouth and the meditation of my heart be acceptable in Thy sight,
O Lord, my rock and my redeemer.
Psalm 37:4 Delight yourself in the Lord and He will give you the desires of your heart.
Matthew 21:22 All things you ask in prayer, believe you shall receive, if you have faith.
Philippians 4:19 And my God shall supply all your needs according to His riches in glory in Christ Jesus.
Philippians 4:6 Be anxious for nothing, but in everything by prayer and supplication with thanksgiving let your requests be made known to God.
Philippians 4:7 And the peace of God, which surpasses all comprehension, shall guard your hearts and your minds in Christ Jesus.
Lord we believe in you.

Isaiah 40:29 Our lord gives strength to the weary, and to those who lack might He increases power.
Romans 10:17 So faith comes from hearing and hearing by the word of Christ.
Ephesians 2:8 For by grace you have been saved through faith, and that not of yourselves, it is a gift of God.
Ephesians 2:9 Not as a result of works, that no one should boast.
1 Corinthians 2:5 That your faith should not rest on the wisdom of men, but on the power of God.
Romans 15:13 Now may the God of hope fill you with all joy and peace in believing, that you may abound in hope by the power of the Holy Spirit.
Heavenly Father, you are a big and amazing God who we love, with all our hearts. "Great is our Lord" in every way.
Humbly I pray this in the name of Jesus. Amen.
Please forward this so others may be blessed.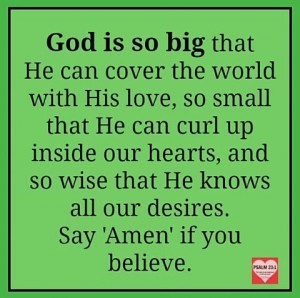 Pete Sagen
prayersbypete@aol.com
To God be the Glory
---